The Dark Centauric Bow Sagittobow (騎龍魔弓サジットボウ, Kiryūmakyū Sajittobō?) is one of the four completed Satanic Arms created by the demons of the Underworld Legion for the supreme Egyptian god Ra.
Description
Edit
Sagittobow is a large black bow.
Sagittobow, along with Leo-Blaster, Kanikiri and Scorlance, were created by the Underworld Legion as means to possess the Gods they could resurrect through the Orbs of Antares. After the ancient Sun God Ra was resurrected 6,000 years after his destruction in the Ancient War, Sagittobow was forced into the grasp of Ra. From then on, the Dark Centauric Bow's curse enveloped the god's consciousness and blackened his mind to become a beastly being of destruction to annihilate the enemies of the Underworld.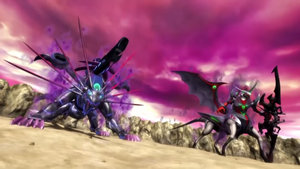 Ra and Mecha-Sekhmet, still corrupted by their respective Satanic Arms, were sent into battle.
Abilities
Edit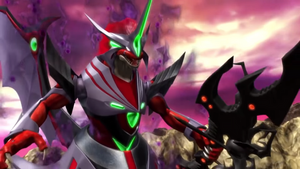 Sagittobow's primary ability is its curse that can warp and corrupt both the soul and powers of an entity created or blessed by the power of the Sagittarius zodiac, such as Ra.
Concept Art
Edit
Screenshots
Edit
Community content is available under
CC-BY-SA
unless otherwise noted.