Operation Charlemagne (シャルルマーニュ作戦, Sharurumānyu Sakusen?) was the first of the Allied Powers' series of campaigns on the liberation of Europe from the Underworld Legion or the Eurasian Union forces. The operation was marked as the successful invasion and liberation of France.
After the oppressive government of Oceania was overthrown, the United States, the United Kingdom and their allies began rallying forces to start the liberation of Europe.
Northern France
Edit
The attack on the beaches of Northern France by the Allies were reminiscent of the Allied attack on Nazi-occupation France in World War II 90 years ago.
Marseille
Edit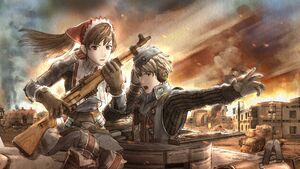 Two weeks before the start of the bloody battle in Paris, American and British forces took the city of Marseille from the Underworld demonic army within seventeen days.
See also: Battle of Paris
The pinnacle of the liberation campaign was the battle in the French capital, Paris.
Aftermath
Edit
Community content is available under
CC-BY-SA
unless otherwise noted.