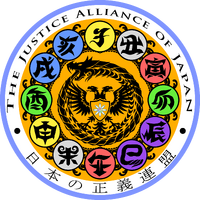 The Justice Alliance (正義連盟, Seigi Renmei?), initially known as Justice Alliance of Japan (日本正義連盟, Nihon Seigi Renmei?), is a conglomerate group founded by Ichiro Tachibana as the merger of the Brotherhood of Magi and Far-East Witches Union, and composed of Magi superheroes from all across Japan. The organization would later focus its priorities internationally and be renamed the Justice Alliance of Earth (地球正義連盟, Chikyū Seigi Renmei?) after accepting foreign and non-Japanese, even non-Magi human superheroes from different parts of the globe into the group.
Since its foundation, decisions and declarations within the Alliance are made in the headquarters located in Alexandria, Egypt.
As of Gamera vs. MechaGamera, a back-up headquarters of the Alliance was developed in a space satellite hovering over Earth's orbit.
The Grandmaster is the highest and most prestigious position of the organization and leader of the Alliance. Its founder Ichirou Tachibana is the only individual to actually hold the position.
Whenever Ichiro is unable to handle leadership or out of commission due to reasons such as injury or priorities, he or his representative can appoint someone to be the acting Grandmaster to lead the Alliance indefinitely until either they are replaced by another or Ichiro assumes leadership again. The following below took the position of acting leader of the Alliance at some point:
Jin Yuugami - scattered points
Shougo Futaba - 2025-2026
The Witch of the Grand Oceans
[
edit
|
edit source
]
Other high-ranking members
[
edit
|
edit source
]
The
The
The
The
The following below are all notable members of the Alliance, permanent or voluntary. Also listed are members of other groups that are part of the Alliance.
The Alliance and several of its members are based off and inspired by various superheroes from Marvel Comics, in particular its flagship team Avengers, as well as other teams from other superhero comic companies.
Community content is available under
CC-BY-SA
unless otherwise noted.