"Illumination of the Crimson Light of Hope, become a strike that pierces through space and time! Descend from the end of the galaxy, Omnideity Grandeus!"
—During Grandeus' debut
Grandeus
(

グランデウス

Gurandeusu)
is the final and the most powerful of the
Ancient Gods
and one of the most powerful entities in the
Mahou Kaiju Series
universe. He only appears in
Kaiju World War: Part 2
to aid the remaining good forces of the universe in the final battle against the Final God
Azathoth-Omega
.
Appearance
Edit
His appearance is somewhat identical to that of Bandaios.
Personality
Edit
Background
Edit
Beyond the Origin of the Universe
Edit
The Final Battle
Edit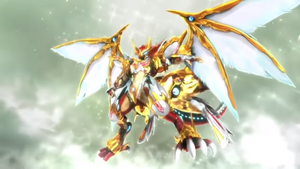 Abilities
Edit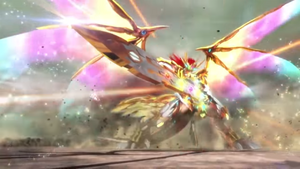 By merit of his sheer size, abilities and powers, Grandeus is one of the most powerful beings that ever existed in the Mahou Kaiju Series universe and even further, since he is a multiversal entity similar to the Final Gods. His title of "Omnideity" implies that his feats and strength are beyond even that of the strongest gods in existence.
Grand Transcendental Deuslash (

万代大神斬理

Bandaiō Kagiri) –
Covenant of the Overgod: Six Lights of Transcendence (

超神聖・万代南六光

Chōshinsei - Bandai Namukō) –
"Illumination of the Crimson Light of Hope, become a strike that pierces through space and time! Descend from the end of the galaxy, Omnideity Grandeus!" (

紅い希望の光もたらす者、時空貫く一撃となれ!終焉の銀河から煌臨せよ、超龍騎神グランデウス!

Akai kibō no hikari motarasu mono, jikū tsuranuku ichigeki to nare! Shūen no ginga kara kōrin seyo, Chōryūkishin Gurandeusu!) (Introduction call)
Illustrations
Edit
Concept Art
Edit
Screenshots
Edit
Community content is available under
CC-BY-SA
unless otherwise noted.