"Our friend's hopes and dreams are etched into its body, transforming the infinite darkness into light! Unmatched in Heaven and Earth! One being among the gods! Overgod of Light Bandaios! We will show you the power of humanity!"
—During Bandaios' debut
Bandaios
(

バンダイオス

)
is the leader of the
Ancient Gods
and one of the most powerful entities in the
Mahou Kaiju Series
universe. He only appears in
Kaiju World War: Part 2
to aid the remaining good forces of the universe in the war against of the
Forbidden and
Final Gods
.
Appearance
Edit
Bandaios is an extremely massive centaur-like entity with a torso, four legs and a dragon-like face. He has yellow glowing eyes, a long golden hair and red scales on his skin. He wears white armor with several colored gems on it, with the gems being mostly green, and a golden crown, also with multi-colored jewels. He also has two pairs of flaming wings, one at the back of his upper body and the other at the lower.
Personality
Edit
Background
Edit
The Origin of the Universe
Edit
Conflict Between the Ancient Gods and Forbidden Gods
Edit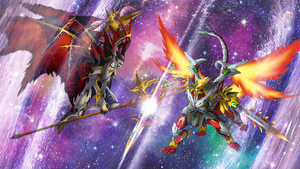 The Final Wars
Edit
When Sokuren and Alex call forth Grandeus, Bandaios and Sagittowurm-Nix lend their powers to him.
Abilities
Edit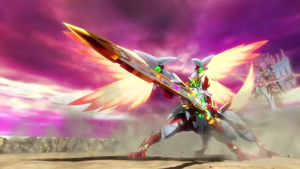 By merit of his sheer size, abilities and powers, Bandaios is one of the most powerful beings that ever existed in the Mahou Kaiju Series universe and even further, since he is a multiversal entity similar to the Final Gods. His title of "Overdeity" implies that his feats and strength are beyond even that of the strongest gods in existence.
Daikyuuken (

ダイキューケン

Daikyūken) – Bandaios' primary weapon that acts as both as a sword and a bow.
Galactic Starblade Grand Chariot (

銀河星剣グランシャリオ

Ginga Seiken Guranshario) –
Grand Transcendental Deuslash (

万代大神斬理

Bandaiō Kagiri) –
Covenant of the Overgod: Six Lights of Transcendence (

超神聖・万代南六光

Chōshinsei - Bandai Namukō) –
"The memories of our friends are carved into this form which will transform infinite darkness into light! Unmatched in Heaven and Earth! One being among the gods! Overgod of Light Bandaios! We will show you the power of humanity!" (

友の思いをこの身に刻み、無限の闇を光に変える!天上天下!一騎当神!超光神バンダイオス!人間の力見せてやるぜ!

Tomo no omoi o kono mi ni kizami, mugen no yami o hikari ni kaeru! Tenjō Tenga! Ikki Tōshin! Chōkōjin Bandaiosu! Ningen no chikara misete yaru ze!)
Illustrations
Edit
Concept Art
Edit
Screenshots
Edit
Bandaios' name is an homage to Bandai, a long-running worldwide Japan-based toy manufacturing, gaming and advertising organization that is a component of the Bandai Namco Holdings conglomerate. As such, the promotional materials, marketing, sponsorship, entertainment peripheral management (i.e. video games, toys, etc.) and licensing ownership and rights of the Mahou Kaiju Series are all handled by Bandai.
Community content is available under
CC-BY-SA
unless otherwise noted.