"I. Am. The. New. God. All is one in Dark Lord. This mighty body is my church. When I command your surrender, I speak with three billion voices. When I make a fist to crush your resistance. It is with three billion hands! When I stare into your eyes and shatter your dreams. And break your heart. It is with six billion eyes! Nothing like the Dark Lord has ever come among you. Nothing will again. I will take you to a hell without exit or end. And there I will murder your souls! And make you crawl and beg! And die! Die! Die for the Dark Lord!"
—Aldrych
The
Dark Lord Aldrych
(

大魔王アルドリッチ

Daimaō Arudoricchi)
is the supreme master of darkness and evil in the world and the main antagonist of
Shin Gamera
and much later on
Kaiju World War: Part 1
, being ultimately responsible for a fallout of consequences that would forever change the world throughout the
Mahou Kaiju Series
. Originally, he was an ancient Egyptian royal mage and Pharaoh named Anduin Tephes
(

アンデュリン・テフェス

Andurin Tefesu)
who betrayed the kingdom in exchange for power and dominion over the world and after his defeat would remain in slumber for six-thousand years to come.
Appearance
Edit
Due to his metamorphosis ability, Aldyrch's appearance often becomes in each moment of his appearances.
When he was human, he was an elderly-looking man with a very dark skin tone and thick blackish-gray hair and beard. As the Pharaoh's royal mage, his attire was a large white-and-gold headdress and body armor, almost entirely covered with light-blue robes.
In the Kaiju World War arc, his appearance is a humanoid demon with jet black armor covering all over his body and two massive pairs of wings. His head has horns, a skeleton-like face and an exposed brain, which is covered in flames.
Personality
Edit
Ruling the Underworld with an iron fist and hungering for his dominion over all that lives and breathes, Aldrych shown to be strict, fierce, and tolerates neither defiance towards him nor failure from his subordinates.
Background
Edit
Ancient Days
Edit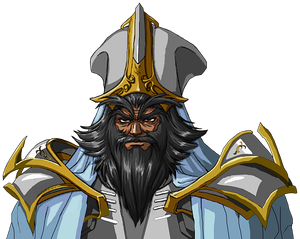 After his descent to darkness, he would be known as many things. One of his names was "Nephren-Ka", which is a term from the ancient Egyptian language, meaning "Betrayer". But he was most known as "Aldrych", which meant "Fallen".
He led the dark forces against the Pharaoh's forces in the Egyptian Civil War. Upon reaching the royal capital, Aldrych slaughtered the entire royal family and declared himself the new Pharaoh and supreme ruler of his new Egyptian empire. He would then lead his armies into war against Atlantis. Aldrych became the sole reason behind the fallout of the events of the Great Ancient War.
Reawakening
Edit
Resurrection and the Underworld Legion
Edit
Abilities
Edit
As the Dark Lord, Aldrych is shown to be extremely powerful and possesses very strong dark abilities that are above the most powerful demon lords of the Underworld.
Astral Projection - Aldrych can appear at times as a glowing semi-transparent projection of himself. Despite this, he can still cause harm to those around.
Electrokinesis - Aldrych can emit blasts of lightning from either his scythe or from both of his hands.

Repulsion Shockwave - Even through his holographic projection, Aldrych possesses the power to emit an overwhelming shockwave that can force back his enemies as well as servants that have failed him.

Transmutation - As with his previson power, Aldrych has the ability to transform beings and bestowing new abilities for them, even through his holographic projection.
Dark Energy - Aldrych can produce streams of dark energy, such as a death ball projectile, even through his holographic projection as well.

Dark Energy Ball - Aldrych is able to fire a giant dark energy ball from his head.
Dark Energy Slash - Using his scythe, he can generate slashes powerful enough to knock even Ichirou Tachibana and the Goddamn Samurai by miles.

Enlarging - Aldrych is able to enlarge himself into a kaiju-like form and returned to normal size.
Metarmorphosis - He is also able to change forms and bodies. When he was possessing Socrato, he dons a form similar to the possessed's younger self but corrupted and has some elements from Aldrych's black armored form.
Possession - As mentioned above, Aldrych is known to possess living beings and completely take over their consciousnesses. The most notable victim of that feat was Socrato when he took control of his body after he died, merged Socrato's powers with his own and took a new form some people called Socradrych.
Resurrection - He is seen to be capable of resurrection, as he was able to revive the twelve dead Underworld demon lords.
Mirror Image - Aldrych can create multiple copies of himself to put his enemies at a disadvantage.
Despair Illusion - By generating an energy manifestation of the Forbidden, Aldrych can trap others into an illusion world filled with despair. He used this on Ichirou, though the latter was able to escape.
"You incompetent little worms…! There are forces beyond this universe far beyond anything you've ever faced. Ancient, mindless evils that are born from the void and consume dimensions merely for their amusement. Monstrous deities and empires spanning universe after universe have risen and fallen in the span of eternity! But, there is still one individual… one being that they are all horrified of! When I saw "it" coming near my universe, I fled. Muhahahhahahha… Weep for your universe, Ichirou Tachibana! Weep for all universes! For the Forbidden is coming!! Hihihi… And all that "it" sees, "it" devours!! HAHAHAHAHAHA…!!!" (

無力怖くな虫けら共め・・・!貴様らが迎えた何よりもこの宇宙を超えた力にあるのみだ。虚無から生まれたと快楽のために次元を飲み込む原始の邪悪な存在を。獰猛な神々、様々多元世界を支配した帝国は永久の期間に上昇と下落した!しかし、それはまだ一つ・・・すべてが怖がっていると一つ者ある!「あれ」が我が世界の近くに来るのを見たとき、逃げた。ふふふ・・・貴様が世界を嘆き、橘一郎!すべての世界を嘆きくれ!禁断が来ているのからだ!!ふふふ・・・そしてすべてが見ていることは、「あれ」が魔壊する!!はははははは・・・!!!

Muryoku kowakuna mushikera-domo me…! Kisamara ga mukaeta naniyori mo kono uchū o koeta chikara ni aru nomi da. Kyomu kara umareta to kairaku no tame ni jigen o nomikomu genshi no jaakuna sonzai wo. Dōmōna kamigami, samazama tagen sekai o shihaishita teikoku wa towa no kikan ni jōshō to geraku shita! Shikashi, sore wa mada hitotsu… Subete ga kowagatte iruto hitotsu mono aru! "Are" ga waga sekai ni kuru no o mita toki, nigeta. Fufufu… Kisama ga sekai o nageki, Tachibana Ichirō! Subete no sekai o nagekite kure! Kindan ga kite iru no karada!! Fufufu… Soshite subete ga mite iru koto wa, "are" ga makai sasuru!! HAHAHAHAHAHA…!!!)
"I. Am. The. New. God. All is one in the Dark Lord. This mighty body is my church. When I command your surrender, I speak with three billion voices. When I make a fist to crush your resistance. It is with three billion hands! When I stare into your eyes and shatter your dreams. And break your heart. It is with six billion eyes! Nothing like the Dark Lord has ever come among you. Nothing will again. I will take you to a hell without exit or end. And there I will murder your souls! And make you crawl and beg!! AND DIE!! DIE!! DIE FOR DARK LORD!!!" (

我。は。新。神。全てものは大魔王なる。この大いなる肉体は我が聖堂。降伏を命じるとは、三十億の声で話しろ。抵抗を砕け散る握りこぶしをするとは。それは三十億の手によるものだ!目を見つめ。夢を破りし。心を壊すとは。それは六十億の目である!

Ware. Wa. Shin. Jin. Subete mono wa Daimaō naru. Kono ōinaru nikutai wa waga seidō. Kōfuku wo meijiru to wa, san-jū-oku no koe de hanashi shiro. Teikō wo kudake chiru nigiri kobushi wo suru to wa. Sore wa san-jū-oku no te ni yoru monoda! Me o mitsume. Yume wo yaburishi. Kokoro wo kowasu to wa. Sore wa roku-jū-oku no me de aru!)
Portraits
Edit
Screenshot
Edit
One of his names, "Nephren-Ka" is the name of the Black Pharaoh who started the worship of the Outer God Nyarlathotep in Lovecraftian literature. This is a reference to Aldrych, being only a vessel of the more powerful Quasar Estes, who is based on and speculated to actually be Nyarlathotep.
Community content is available under
CC-BY-SA
unless otherwise noted.